If you're looking to move to Manhattan Beach, you're in for a treat. This beautiful beach town is home to some of the best restaurants in California. From seafood shacks to fine dining, there's something for everyone. To make things a little easier, we've put together a list of our favorite restaurants in MB. Whether you're into Mexican food or seafood, we have something for everyone on this list. So check it out and get ready to chow down!
𝐄𝐬𝐩𝐞𝐫𝐚𝐧𝐳𝐚 𝐂𝐨𝐜𝐢𝐧𝐚 𝐝𝐞 𝐥𝐚 𝐏𝐥𝐚𝐲𝐚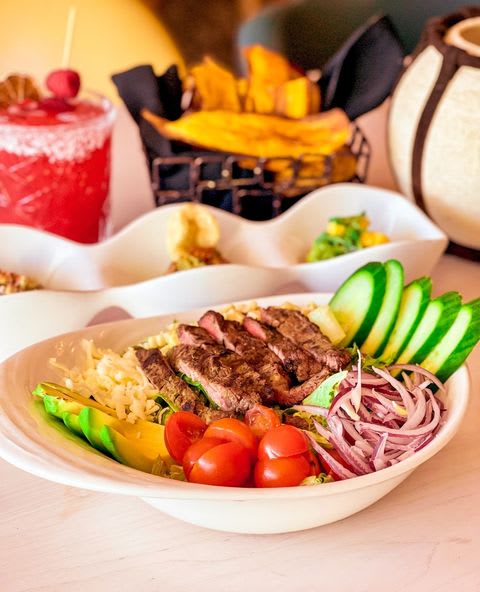 Esperanza is a family-owned restaurant serving fresh seafood and Mexican-fusion cuisine. This beachfront Mexican eatery is one of the best places to enjoy a meal in Manhattan Beach with your family and friends. The beautiful setting, complete with an outdoor patio, makes it perfect for a date night or a family dinner. And the food is absolutely delicious - we highly recommend the shrimp tacos!
Located at 309 Manhattan Beach Blvd, Manhattan Beach, CA 90266
Love and Salt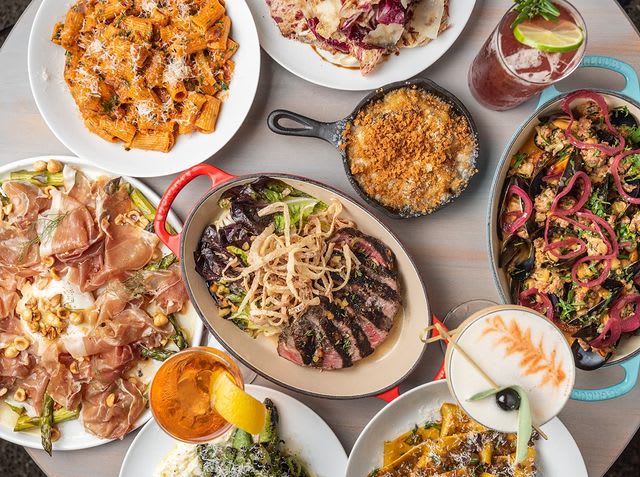 Love & Salt is an Italian-inspired restaurant with a California soul, boasting a polished, contemporary dining space with a sky-lit domed ceiling serving Italian bistro fare. Its story begins with Cafe Pierre, a restaurant birthed by Guy Gabriele in 1977 to bring a taste of France to Los Angeles' South Bay. Love & Salt believes that to create delicious food, it only needs two components. It's a sensibility that pervades the restaurant's atmosphere and the menu's offerings.
Love & Salt has the vibe of the coolest restaurant in town. It's crowded, beautiful, and boisterous, but everyone seems to be having a good time, and the food is delicious. Love & Salt is a reliable and pleasant choice for date night, dinner with the parents, and a single burger on a Sunday when you're hungover. Love & Salt is the best bet for excellent Italian cuisine in a relaxed atmosphere. The plates of pasta are prepared in-house, there are English muffins you'll want you could take home for breakfast the next day, and the roast chicken is delicious.
Located at 317 Manhattan Beach Blvd, Manhattan Beach, CA 90266
Simmzy's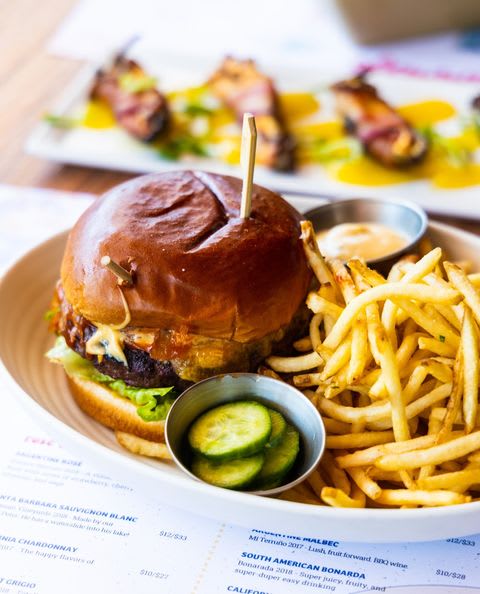 Simmzy's is a local pub dedicated to keeping you in a vacation mood all year. Opened in 2009, Simmzy's food is created from scratch, the beer is handcrafted, and the atmosphere is pleasant. The slightly crowded brunch location, located in the midst of the main drag, sums up Manhattan Beach: lovely people, wonderful food, and everyone getting day-hammered on mimosas because it's Saturday.
Simmzy's has an open-air environment with some chairs facing the beach and an L-shaped bar with giant filament light bulbs hanging overhead, giving it an inside-out effect. The personnel is usually pleasant and helpful, and you get the impression that you know everyone; in fact, you do! Aside from that, the menu is functional but entertaining. Amazing burger, great service, and wonderful atmosphere. Simmzy's is definitely a place that handles its clients well and makes you feel like you've had a good time when you leave.
Located at 229 Manhattan Beach Blvd, Manhattan Beach, CA 90266
O-Sho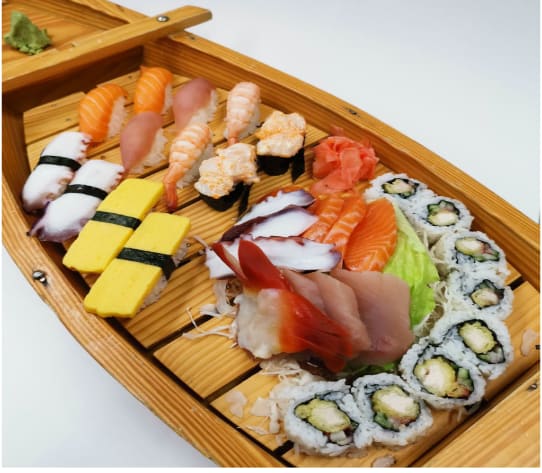 O-Sho Restaurant is a charming Japanese family restaurant that mostly serves the locals of the surrounding area. It has long been a Manhattan Beach classic for Japanese cuisine. O-Sho has it for me as a big fan of Sashimi, especially Tuna.
This is a traditional type classic sushi restaurant where style meets family in a quality style menu passed down through the generations. O-Sho is a genuine gem. The owner and his team are fantastic, and the sushi is of excellent quality and consistency. The restaurant has been in operation for a long time, but a new owner took over a few years ago and transformed it into one of Manhattan Beach's greatest sushi restaurants.
Located at 913 N Sepulveda Blvd, Manhattan Beach, CA 90266
Izaka-Ya by Katsu-Ya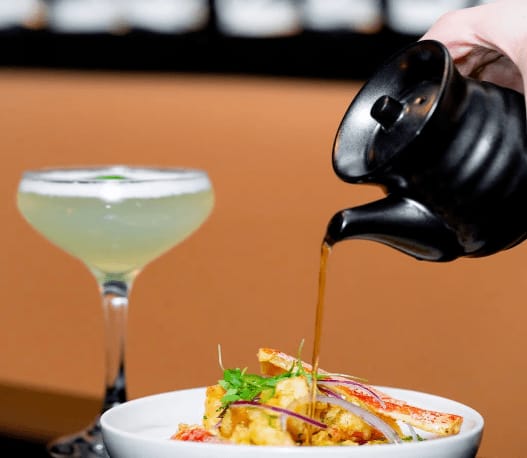 Izaka-ya by Katsu-ya is a popular Japanese restaurant and bar where people come for sushi, sashimi, and other delicacies. Master Sushi Chef Katsuya Uechi brilliantly translates Japanese flavors for the American palate with specialty cocktails, creative rolls, and stunning sushi and sashimi platters. Katsuya's incredible talent and meticulous accuracy have completely transformed Japanese cuisine.
You'll love seeing the chefs prepare each dish, which will tempt you to order everything on the menu. They are friendly, patient, and willing to explain the elements of Izaka-ya's various rolls. Everything is prepared to order in the kitchen, ensuring that each meal is presented at the perfect temperature. Aside from the kitchen, the service is also great. The hostess and waitresses were extremely pleasant and helpful. Your glass (whether it's filled with water, hot tea, or whatever) is never empty. There's definitely a mix of expensive and fairly priced sushi for the price.
Located at 1133 Highland Ave, Manhattan Beach, CA 90266
Nick's Manhattan Beach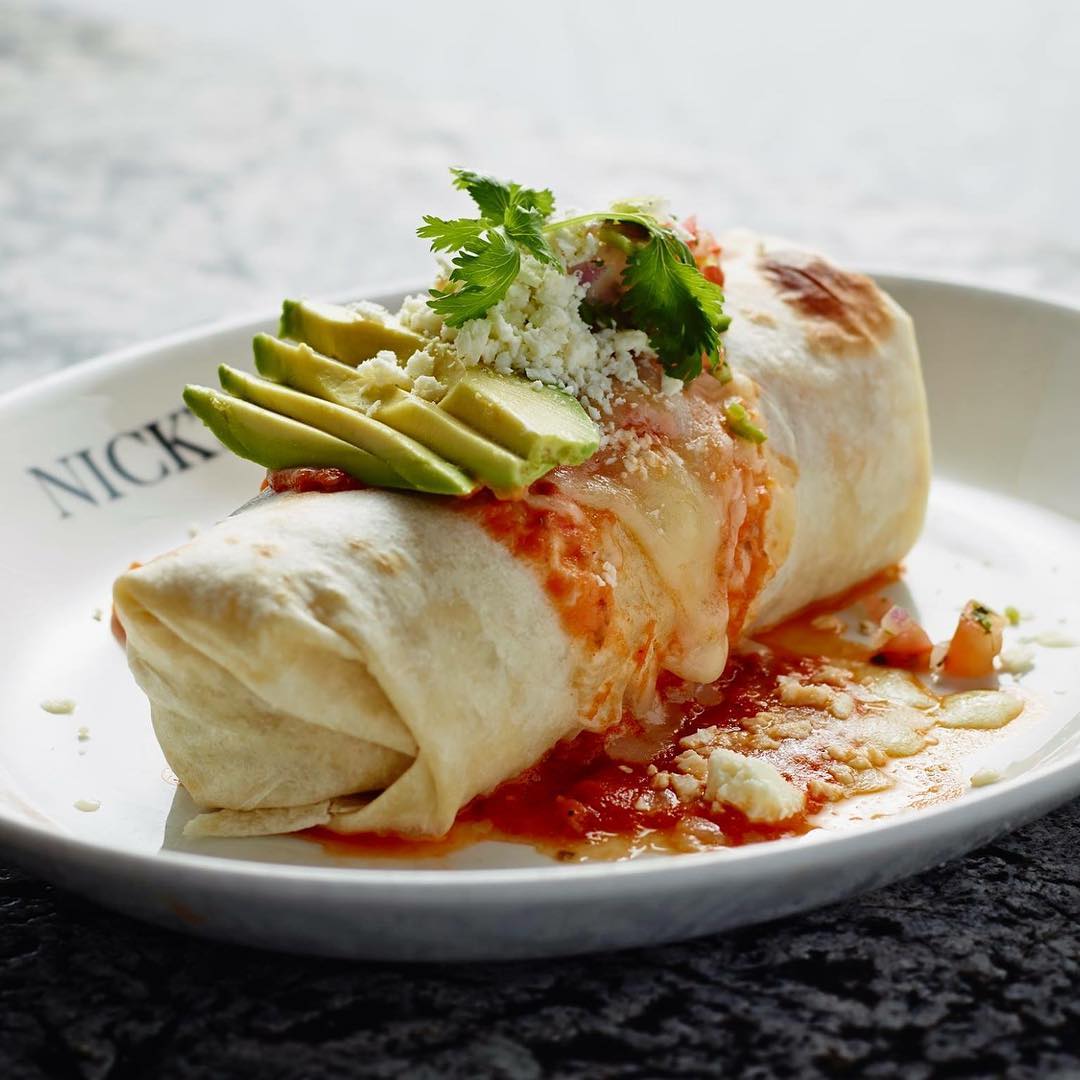 Nick's, which is located in a courtyard accompanied by a few other restaurants, is known for its loud music, dim lighting, and delicious food. Nick's, which opened in 2008, is dedicated to improving the dining experience via constant innovation, high-quality cuisine and beverage, and exceptional service. Dedicated to becoming among the best in the industry by providing welcoming, relaxing, and enjoyable dining experiences for all guests.
Nick's is in a fantastic location, just next to the pier. It's a fantastic local hangout that's popular with both locals and visitors. As soon as you step in, you'll notice the large space and a sprawling bar. There is plenty of outdoor sitting as well as plenty of indoor seats. The bartenders are generous with their pours, and their wines are all excellent. It provides excellent service and wonderful food. There are a lot of restaurants in the Beach/ South bay area, but none have been as reliable, long-standing, or as outstanding as Nick's.
Located at 451 Manhattan Beach Blvd D, Manhattan Beach, CA 90266
Manhattan Beach Post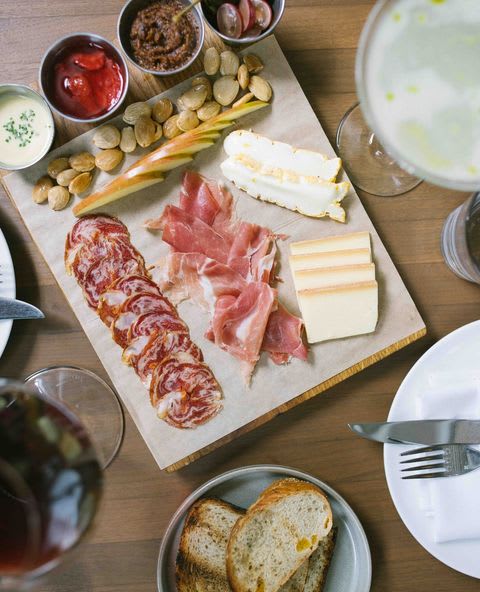 Manhattan Beach Post is a soulful, intimate space by Chef David LeFevre. In an urbane setting with plenty of reclaimed wood, inventive farm-to-table American cuisine is served. It offers a fun, artisan menu of small special meals, artisan cocktails, and limited-edition wines. Manhattan Beach Post is the result of 15 years of hard labor, travel, and perfectly polished technique in some of the world's most thriving culinary communities. LeFevre, who is known for his fine dining experience and seafood skill at Water Grill, returns to his culinary roots with a more rustic menu designed to be shared and delivered in a kind and welcoming setting.
When Manhattan Beach Post opened, people were ecstatic because they finally had somewhere classy to eat in the South Bay that wasn't terribly expensive or ridiculously bad. The dinner is consistently fantastic, especially the bacon cheddar biscuits. When you add in an interior design that looks to have been generated using an algorithm for finding "things young people like," as well as a bewildering Blink-182-heavy music, Manhattan Beach Post is the place to go. If you're in the area for brunch or dinner and haven't made a reservation, Manhattan Beach Post will not let you down.
Located at 1142 Manhattan Ave, Manhattan Beach, CA 90266
Fishing with Dynamite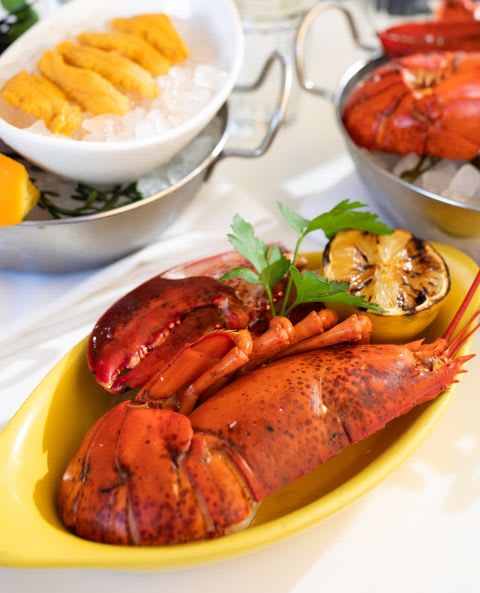 Fishing with Dynamite is a lively, 32-seat restaurant with a vibrant oyster bar and a menu of "old school" conventional seafood foods as well as "new school" dishes featuring cuisines from around the world. This is one of Manhattan Beach's most popular restaurants because the seafood is usually fresh and the service is always excellent. It has a really wonderful neighborhood feel to it, plus it's only a two-minute walk to the beach and pier, so it's in a great location.
Dynamite Fishing is a fantastic concept and execution. This upmarket Manhattan Beach restaurant has a long history of serving consistently high-quality fish. The oysters were excellent, the sashimi was delectable, and the ceviche was fantastic. They're sweet and somewhat salty, with a zesty marinade that packs a punch. Slurping oysters and eating crab rolls with your date while jammed up against the bar inside will always have a certain aesthetic.
Located at 1148 Manhattan Ave, Manhattan Beach, CA 90266
Fish Bar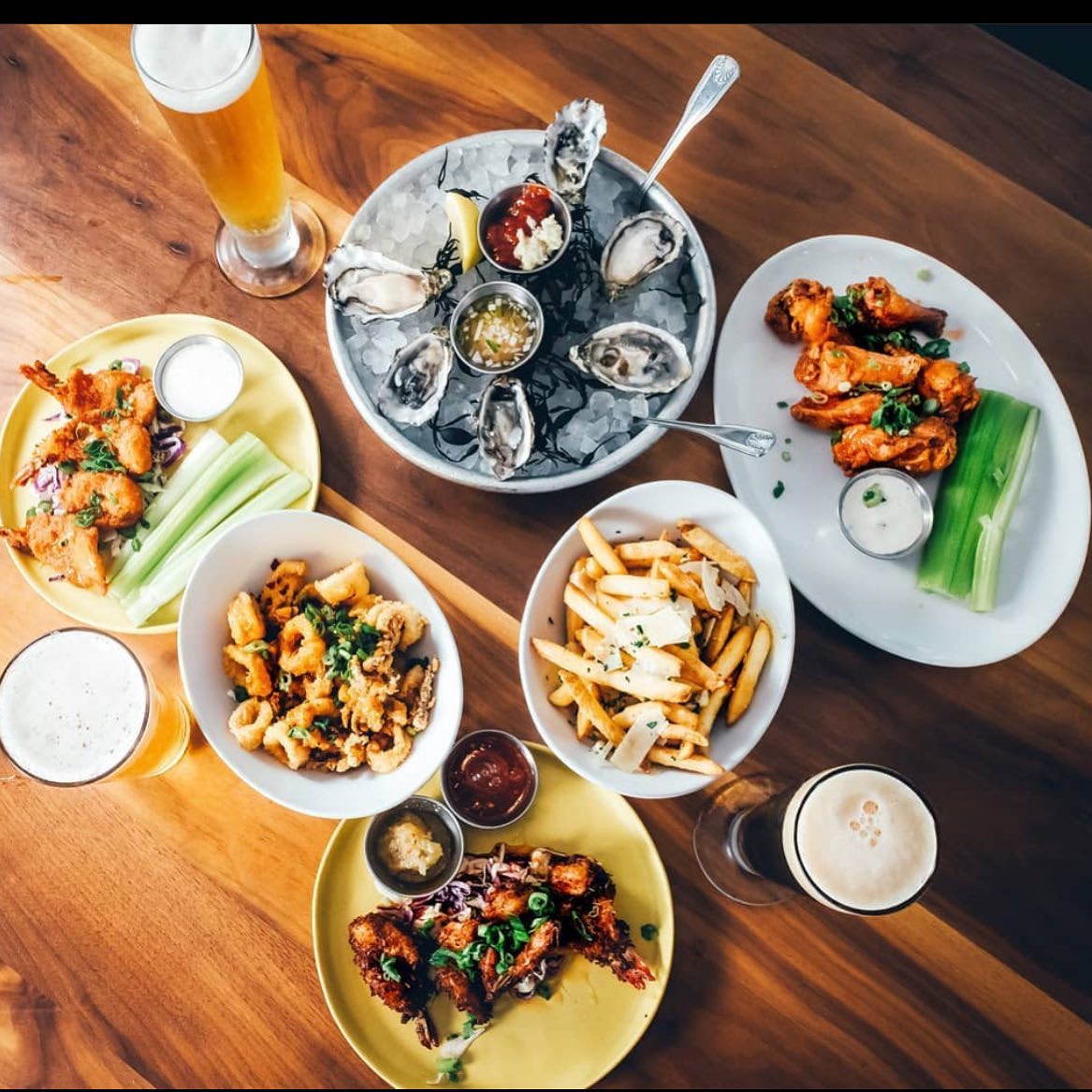 Fish Bar is known for its mesquite-grilled fish, king crab, Maine lobster, shrimp, scallops, and oysters, to name a few delights. They take pleasure in providing the freshest fish available as all of their fish is flown in from all over the world on a regular basis. The seafood is hand-picked for the guests. Their fish is never kept in the restaurant for more than 24 hours; it is brought in and taken out on the same day.
This restaurant/bar is just fantastic. Locals meet and chat, while visitors sit and enjoy delicious meals. Even though everyone in the place is working hard, they make time to smile and say nice things to the customers. Servers, waiters, and bartenders all get to know the people they serve and treat visitors the same way they treat locals, which is highly unusual. Aside from the delicious meals, there is a warm family atmosphere.
Located at 3801 Highland Ave, Manhattan Beach, CA 90266
Rockefeller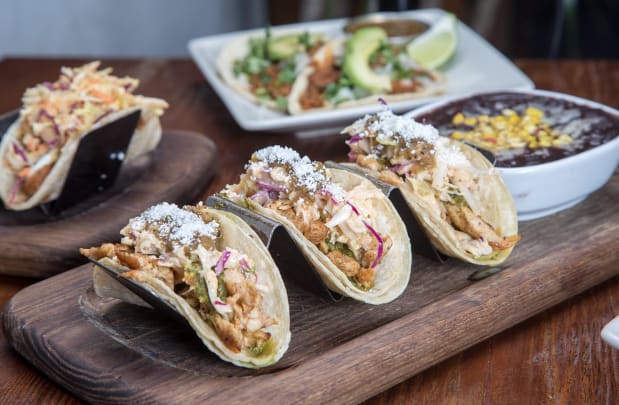 In a wood-accented area enclosed by enormous windows and a marble bar, The Rockefeller serves modern American cuisine and craft beers. The Rockefeller family was born and raised in the South Bay area, and they claim various beaches as their homes. Primo Italia, Dia De Campo, Saint Rocker, Riviera Mexican Grill, and Captain Kids Fish Market & Restaurant are all affiliated with the Rockefeller Gastropubs.
The Rockefeller takes pleasure in serving independent American craft beer. They will deliver the best beer experience in the South Bay for their customers, whether they're beer rookies or beer aficionados. Their food stands apart from the rest because of the blend of flavors. They blend their enthusiasm for cooking and serve up dishes that create memories that their customers can only associate with them, with a firm sophistication ranging from basic to distinctive flavors and ingredients.
Located at 1209 Highland Ave, Manhattan Beach, CA 90266
Mangiamo Ristorante & Bar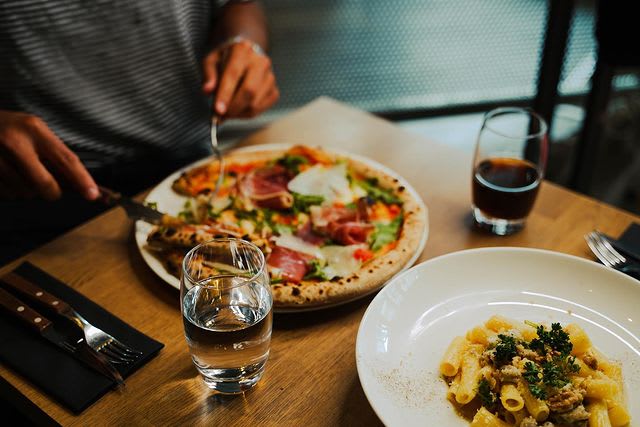 Since 1984, Ron Guidone's Southern-influenced Italian restaurant Mangiamo Ristorante & Bar has regularly catered truly classic Italian cuisine to beachside locals. The cozy, elegant ambiance brings in a lot of residents and provides an enjoyable experience as well as a lively bar scene at night. Mangiamo has been a favorite of residents for decades since the food is consistently outstanding, the staff is pleasant, and the setting welcomes you to relax and have a lovely dinner.
Customers may take a while to decide what to order from their menu because they have so many interesting delicious options. Locals can honestly say that every meal has been fantastic, from the Scampi Fra Diavolo and Potato Crusted Halibut to the Butternut Squash Ravioli and Chicken Marsala, which never stop to wow each customer's palate. Mangiamo may be a little pricey for the amount of food served, but the amazing dining experience provided by the chef and crew keeps a lot of people coming back for more!
Located at 128 Manhattan Beach Blvd, Manhattan Beach
Nando Trattoria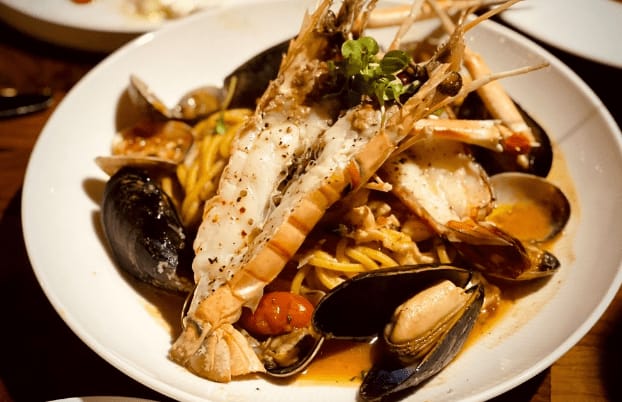 Nando Trattoria is a stylish, modest Italian restaurant with a cozy style and intimate dining feel, offering a wide range of seafood, pasta, and meat plates, as well as a diverse wine selection. Dario and Amy, the owners, are passionate about the Italian way of life and want to offer this unique dining experience to everyone, no matter where they are. Nando Trattoria strives to give great cuisine made with natural products and an exceptional dining experience to its guests and community.
The restaurant's decor is gorgeous, modern, and authentic, and the interior aesthetic is warm, inviting, and romantic, with good music playing in the background. Their staff is really nice, knowledgeable, and attentive whenever drink refills are needed or just want to check in on their customer's experience. The Italian entrees and pasta, particularly the Gnocchi, are delicious! The Focaccia bread was fantastic, fluffy, and hot, and the Arugula salad with artichoke hearts, fennel, and parmesan was light, refreshing, and simple. The toasted almond semi freddo was out of this world, and the seafood pasta had such a tremendous selection of seafood!
Located at 1131 Manhattan Ave, Manhattan Beach, CA 90266
Sugar fish by Sushi Nozawa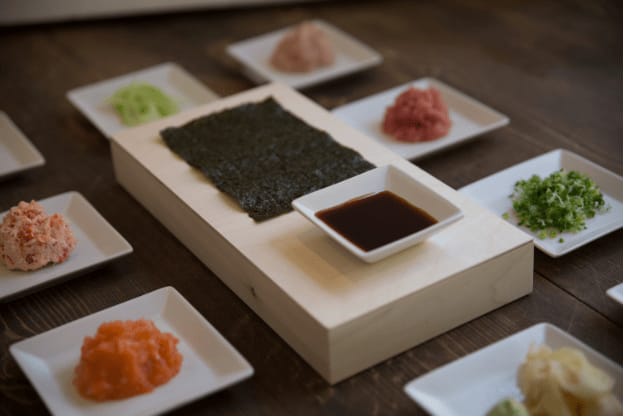 Sugarfish was founded by renowned sushi chef Kazunori Nozawa and three co-founders. Sugarfish serves only the highest quality traditional sushi prepared in Chef Nozawa's manner. His passion is to continue his outstanding history and method of cooking, which many consider being the best sushi in the world. The Sushi Nozawa experience's simplicity, sincerity, and honesty are difficult to master but never impossible.
Sugarfish's decor is upscale contemporary and could easily be taken for a high-end art gallery. A sushi bar is also available for solo diners and small groups. The servers were extremely pleasant and helpful in determining which dishes they would recommend. All the meals served for Sugar fish's "Trust Me" were fantastic! The Tuna Sashimi, Salmon Nigiri, and Toro Hand Roll were the most delicious courses. Trust me - customers will be coming back!
Located at 304 12th St, Manhattan Beach, CA 90266
The Arthur J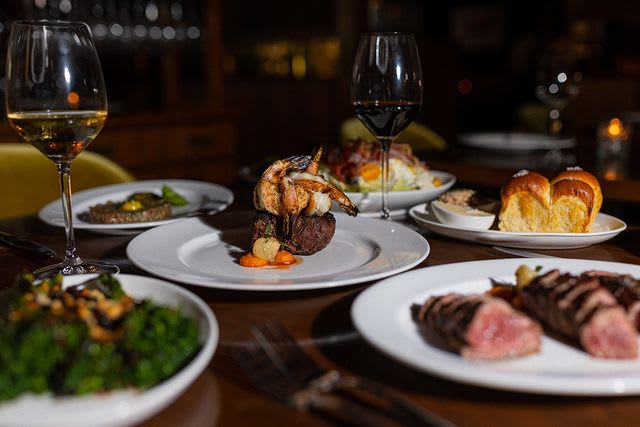 The Arthur J is the perfect neighborhood steakhouse, complete with a large wood-fired grills and Chef-Owner David LeFevre's own twists on steakhouse classics, as well as dishes influenced by his roots, travels, and the greatest culinary ingredients. The Arthur J maintains a time-honored method of grilling delicious steaks over a hot fire and smoking embers using fresh wood.
Unlike many steakhouses, The Arthur J does not feel flashy or like how your aunt always recommends it for "special occasions." It's actually rather cozy here. The atmosphere is a little retro, and the food is top-notch. Every meal is delectable, and the portions are large. After you've picked a steak, there are sauces, kinds of butter, toppings, and sides to complete your ideal meat course. When you're in the mood for a steakhouse and want to try something a little different from the norm, here is the place to go.
Located at 903 Manhattan Ave, Manhattan Beach, CA 90266
El Sombrero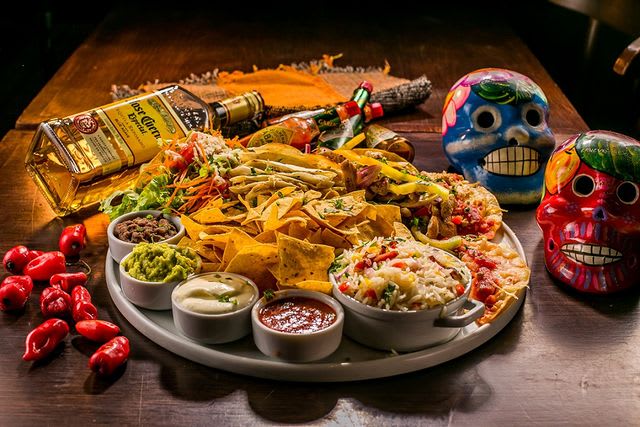 Since 1975, El Sombrero has been fostering relationships with people who value tradition, family, and a simple, small-town atmosphere. It's a modest family-owned restaurant with a big heart, located in downtown Manhattan Beach. El Sombrero has been a part of the Manhattan Beach community for almost 40 years, with many of its customers returning on a regular basis for decades; the owner and staff know not just their parents, but also their children and grandkids.
When you go inside El Sombrero, you'll be welcomed with such a warm welcome that it feels like you've walked into the home of a distant relative. Everyone at the restaurant is really nice and friendly! They provide great customer service! They always say "Welcome home," whenever they greet visitors. The costs are low, and the portions are generous. Salsa is delicious and fresh, and it did not come from a can. The house margaritas were wonderful and so well-poured, and the tacos were delicious. Customers will undoubtedly return for more!
Located at 1005 Manhattan Ave, Manhattan Beach, CA 90266
El Gringo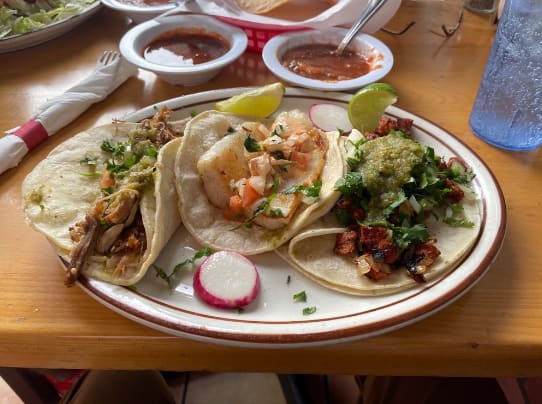 Bill Graw, a local restaurant who first opened his doors in Hermosa Beach in 1986, had a vision when he saw the Hermosa Beach landmark El Gringo for sale in 2001. El Gringo Mexican Restaurant has grown in popularity among both locals and guests. Locals have frequently voted it the best Mexican restaurant. El Gringo's objective is to deliver authentic, fresh Mexican cuisine in a clean, lively environment with excellent service.
As a result of listening to the feedback of devoted customers, El Gringo has adapted to fit changing lifestyles. Along with wines and craft brews, they are happy to provide a selection of healthful options. The never-ending chips and salsa are a wonderful bonus here, as are the friendly and attentive staff, grilled vegetables as a side dish for the health-conscious, and generous portion sizes on all of the cuisines. El Gringos will undoubtedly be frequented by customers visiting Manhattan Beach.
Located at 921 N Sepulveda Blvd, Manhattan Beach, CA 90266
Slay Italian Kitchen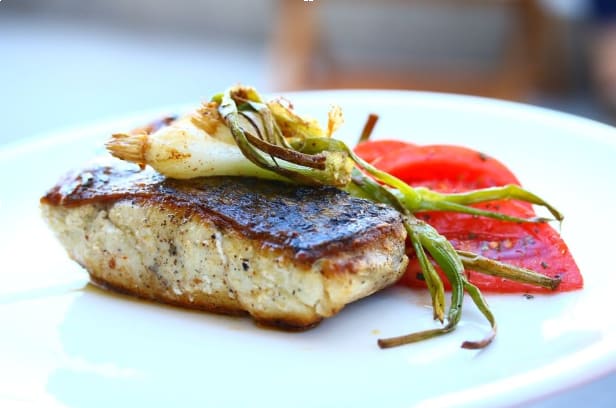 David Slay, the owner and chef of Slay Italian Kitchen, offers a "Rustic" Italian rotating menu made with fresh ingredients from their farm. Fresh and dried pasta, meats, stone-fired pizza, veggies, and wines are all part of their menu. This restaurant is located near the Manhattan Beach Pier, just a few blocks from the water. The indoor area isn't particularly large, but there is plenty of outdoor seating.
The ambiance of the restaurant was fantastic, and the music selection was excellent. The staff were outstanding: attentive, pleasant, and non-obtrusive. All of the dishes were delicious! The calamari appetizer was excellent, the mussels were wonderful, the lasagna was divine - thick and soft, and the chicken caesar was outstanding. The dessert was outstanding, a coconut olive oil cake that was not overly sweet but packed a punch of flavor. Highly recommend and we the customers will be back for more.
Located at 1001 Manhattan Ave, Manhattan Beach, CA 90266
Zinc@shade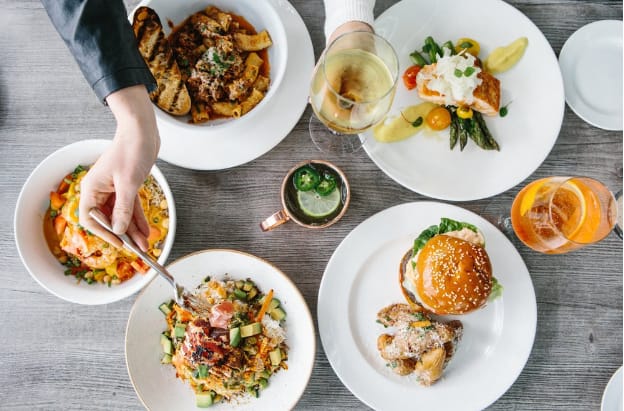 At Zinc@Shade's, California cuisine is served on the premises of the restaurant terrace and lounge. Its hotel includes a sleek, airy venue for drinks, fine dining, and happy hour, as well as a breezy roof deck perfect for events and get-togethers. Zinc was not only easy to book a reservation for more than 12 people, but it was also a wonderful experience.
At Zinc, the staff was fantastic. Everyone was quite pleasant, and they went above and beyond to ensure that each guest's stay was memorable. At the front desk, the bar, and the Zinc restaurant, the service is outstanding. The oat milk latte was delicious and energizing. The braised short rib inside the tortilla was delicious. The potions are plenty. The French toast was also delicious. It had a bread pudding-like substance on the inside. Overall, guests would return to taste various dishes and stay in the hotel's excellent accommodations.
Located at 1221 N Valley Dr, Manhattan Beach, CA 90266
Petros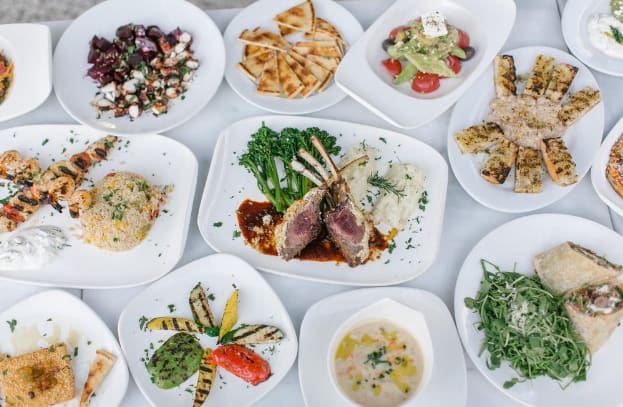 Petros is a California-style Greek restaurant with a large wine selection and a light, airy atmosphere. The brand goes beyond food and wine to provide a whole dining experience, with personalized events held at restaurants, wineries, and other venues. The 'Chic Greek' encourages you to experience his love for history and legacy by adding a fresh flair to family recipes utilizing the highest quality products from Greece and the central California coast.
Petros is an opportunity to showcase the elegant side of casual cuisine because it takes its food seriously as it imports olive oil, feta, honey, oregano, and wines from Greece, as well as growing its own organic veggies on a farm. Just don't expect lettuce in the Greek salad. Crunchy cucumber, sweet sliced tomatoes, Epirus feta cheese, firm and fleshy black olives, thick avocado, a drizzle of fruity extra virgin olive oil, and a sprinkle of capers are all on the menu. Such beautiful combos are made up of quality, simple, nutritious, and appetizing meals.
Located at 451 Manhattan Beach Blvd b110, Manhattan Beach, CA 90266
The Strand House
The Strand House is a sophisticated yet welcoming family-owned restaurant founded by a small group of South Bay families that share a passion for good food, wine, and company. They don't feel that excellent service has to be stuffy. They provide a five-star experience with the warmth and hospitality that one would expect from a beach community, with each guest treated as if they were family.
The Strand House cuisine showcases the abundance of products accessible in Southern California all year. The food and service were both excellent. The sweet corn shrimp soup was delicious and flavorful, and the Spanish grilled octopus was crispy and flavorful, with crispy corn and potato pieces and a variety of sauces. The Branzino Fish was incredible, and the doughnuts at the conclusion of the meal were the perfect way to round off our evening. Food, ambiance, and company; everything you need for a lovely, hearty meal is in The Strand House.
Located at 117 Manhattan Beach Blvd, Manhattan Beach, CA 90266
Barsha Wine & Spirits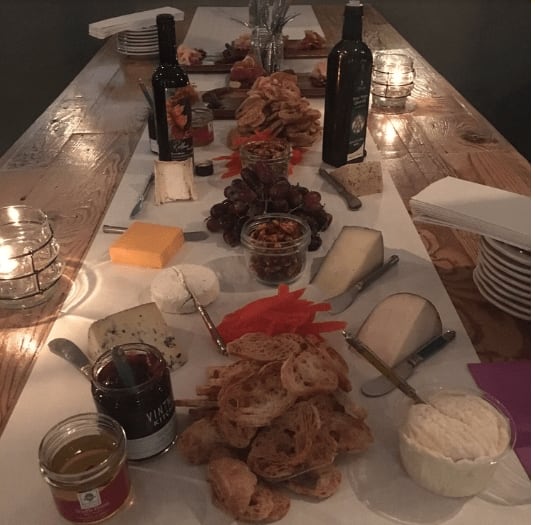 Barsha Wine & Spirits is a romantic spot for beer and wines, as well as a seasonal Tunisian menu of vegetable dips, grilled seafood, and meats. Barsha's tasting room, in addition to their enormous wine and spirits collection, provides over 30 wines by the glass and a farmers market-inspired menu that focuses on Californian cuisine with a Tunisian twist.
Barsha is a charming little restaurant tucked away in a Los Alamitos business park. There were no frills in their design, but everything was clean. The waitress was quite pleasant and took the time to explain how the tastings work as well as the tasting menu. It's fantastic that people can do wine tastings or simply stop by to refill their empty growlers at Barsha. If you're a local seeking a consistent nice/affordable glass or sampling of wine, Barsha comes highly recommended.
Located at 917 N Sepulveda Blvd, Manhattan Beach, CA 90266
If you're looking for a new home in the Manhattan Beach area, here are some of our favorite restaurants to enjoy! John Bathurst with Bathurst Coastal Properties at Compass is a Luxury Real Estate agent and serving the entire Los Angeles coastline.. He has the experience to help you buy or sell your home in the area, also guide you through every step of the process, ensuring a smooth and successful transaction. So if you're considering a move, contact us today to get started on your home journey - we would love to assist you!


John Bathurst
Luxury Real Estate Advisor | Principal | John Bathurst Group | Founding Member | Compass South Bay | DRE# 01977487
Mobile: 310.594.5705
Email: [email protected]

Instagram: https://www.instagram.com/johnbathurstgroup/
Facebook Page: https://www.facebook.com/JohnBathurstGroup
Facebook: https://www.facebook.com/johnhbathurst/
LinkedIn: https://www.linkedin.com/in/johnbathurstgroup/
Pinterest: https://www.pinterest.com/johnbathurstgroup/
Twitter: https://twitter.com/Johnbathurst
YouTube: https://www.youtube.com/channel/UCU8RvUIfAflpho2J2FLFwow
TikTok: https://www.tiktok.com/@johnbathurstgroup?is_from_webapp=1&sender_device=pc
Zillow: https://www.zillow.com/profile/John%20Bathurst
Compass: https://www.compass.com/agents/john-bathurst/
Google Business Profile: https://bit.ly/3ueBS13