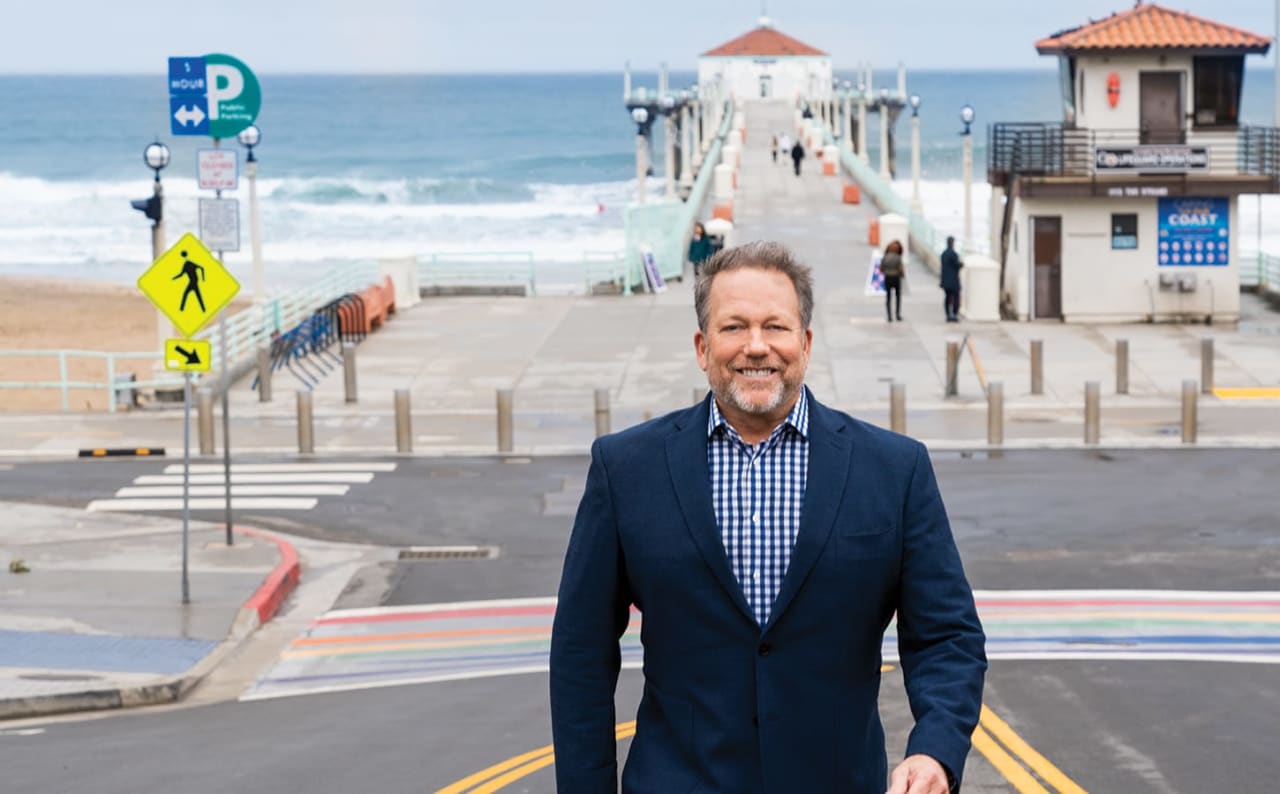 John Bathurst Group | Compass
1221 Hermosa Ave., Suite 1221,
Hermosa Beach

John Bathurst is the principal and team leader for the John Bathurst Group, a full-service brokerage based in Manhattan Beach and Hermosa Beach and operating under the Compass umbrella. John joined South Bay Brokers in 2015, just before it was acquired by Vista Sotheby's. In 2018 he joined Compass as a founding member in the South Bay.
John earned a marketing and finance degree at Cal State Long Beach and worked for 30 years as a sales and marketing executive with Nordstrom, Ralph Lauren, Quiksilver and Speedo. He decided to pursue real estate in 2014—a transition that was seamless thanks to his extensive brand, sales and marketing experience.
What is your team known for?
Our team is focused on one thing: our clients. We want to be our clients' real estate advisors for life—just like your financial advisor is for your portfolio. This goes way beyond just buying and selling real estate. We want to make sure every purchase or sale meets your goals and aspirations and is meaningful. Whether it's making a house a home, selling your home and transitioning to a new home or making the right investment, we want to help our clients make the best possible decisions.
How does your background enhance your work in real estate?
My sales and marketing background has had a major impact on my career and success in real estate. Whether I am marketing a new listing, providing sound sales advice or providing relevant data to make good decisions, I am a professional and always looking to give the best advantages to my clients.
What do you love about your job?
I love people and being part of the South Bay community. I am in the people business. I love sharing my local knowledge and passing it on to all my clients. I absolutely cherish the relationships I have with my clients before, during and after an escrow. The real estate process can be very emotional and stressful, and I want to bring comfort to my clients and take the edge off—making it as smooth as possible.
From the initial consultation with my buyers and sellers to closing their transaction, my clients know my team is supporting them every step of the way. Even after handing them the keys or setting up the move to their new house, I am there to help with all their needs. I am extremely grateful my clients have chosen to work and put their trust in me. This is probably why a large percentage of my business comes from past clients and referrals.
Also, I love the empowerment of being an entrepreneur and the flexibility to balance my business, family and personal time. I have three boys—Kai, Caden and Jett—so having the flexibility to spend valuable time with them is as important as running a business.
What advice do you have for buyers in the current market?
If you are a buyer in any market, it is exciting. We can always find the right opportunity because it starts with being committed to becoming a homeowner and building long-term wealth. In this current market, you have more leverage with sellers than you did a year ago. Sellers were in the driver's seat and making almost no concessions.
It may take a bit longer to find the perfect home because of the lack of homes available, but the good news is you have less competition. Yes, interest rates have more than doubled in the past year, but if you look at the historical data, the rates are still very favorable.
Keep in mind: When rates drop, more buyers will enter the market and you will have more competition. You can always refinance when the rates drop. If you have funds for the down payment and are comfortable with the monthly payment, now is a great time to buy. I do think the best strategy is understanding clients' long-term goals and deciding what will be the best scenario for them.
What do you expect to see in real estate this year, specifically in the South Bay?
It will be an interesting year, no doubt. I think the spring market will be active but more like the second half of 2022. There will be fewer homes coming on the market, and although buyer demand has decelerated, homes will sell but take a bit more time.
The opportunity for buyers is less competition in the market and getting more seller concessions. Sellers have a great opportunity because home inventory is low and there are fewer competing properties. If the home is in great shape, priced accordingly and marketed properly, the seller should be happy with the result.
There are also opportunities for investors—especially homes that need work. Since some buyers have pulled out of the market for the time being, they will continue to rent … so acquiring rental properties is a great investment strategy. Every situation will be different. Having an experienced and knowledgeable agent guiding you will be very important in 2023.
What would you like potential clients to know about you?
I am a fierce competitor, an honest and hardworking Realtor, and a loyal and committed friend and neighbor. I look for the right answer, and the glass is always half full. I'm also a lot of fun.